The antenna REMO BAS-5106 RADAR is intended to receive television programs in the frequency band 174 … 862 MHz (channels 6 and 69 VHF and UHF). The antenna receives signals DVB-T / DVB-T2 analog and digital television formats.
The antenna has a built-in amplifier, which has a different variants of powering
Antenna can be powered by the USB-input of the TV, computer, etc. with the help of the USB power adapter.
Perhaps the usage of an additional amplifier «INDOOR USB» in case of a weak signal.
Placing antennas:
Antenna Type:
The gain, max., Channel 6-12:
The gain, max., Channel 21-69:
Impedance
Сolor of case:
Dimensions of assembly:
Weight:
The cable length:
Indoor
Broadbang TV Antenna
15dBi
26dBi
75 Ohm
On demand
265x240x35mm
0.35kg
1.2m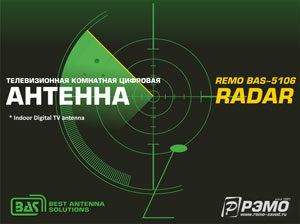 You can download the presentation in PDF format. To view PDF file You can use Adobe Acrobat Reader