BAS-1348 Omni 2.0 VHF/UHF
The outdoor antenna is designed for analog and HDTV with ability to receive a signal from all sides 360 deg. It doesn't need to rotate an antenna at all. Just mount an antenna to mast or a braket and enjoy the HQ HDTV signal on your TV.
The antenna is protected from external atmospheric influences. It can be both passive or amplified. Available in white color.
A complete set of fasteners, a coaxial cable, a wall bracket and a power adapter for powering the amplifier are included in the package.
Antenna can be powered by USB, STB or AC adapter.
Placing antennas:
Antenna Type:
The gain, max., Channel 1-12:
The gain, max., Channel 21-69:
Impedance:
Connector type:
Supply voltage:
Сolor of case:
Outdoor
Broadband TV Antenna
12dBi
35dBi
75 Ohm
F
5-12V
White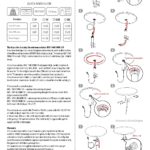 You can download the presentation in PDF format. To view PDF file You can use Adobe Acrobat Reader