Indoor VHF/UHF antenna designed for high quality and stable TV reception due to high-efficiency antenna structure. Antenna does not interfere with the passage of light when placed on a window. Flexible, convenient and lightweight design. Compatible with any TV and TV set-top boxes. Use of high-quality silver nanoparticles in the antenna structure for obtaining the highest results.
The antenna has a different variants of powering. Antenna can be passive or Amplified.
Amplified antenna can be powered by the USB-input of the TV, computer, etc.  by using USB power adapter , AC adapter and STB.
Placing antennas:
Antenna Type:
The gain, max., Channel 6-12:
The gain, max., Channel 21-69:
Impedance:
Connector type:
Supply voltage:
Сolor of case:
Dimensions of assembly:
Weight:
Cable length:
Indoor
Broadband TV Antenna
33 dbi
33 dbi
75 Ohm
F or TV aerial plug
5V
On demand
290x205x15mm
0.26kg
2 M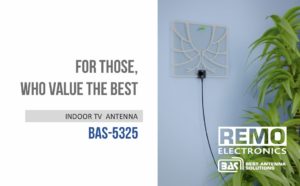 You can download the presentation in PDF format. To view PDF file You can use Adobe Acrobat Reader