Indoor amplified antenna for receiving analog (FM) and digital (DAB) broadcasting.
The antenna is placed on a horizontal surface using a stand and on any vertical surface using double-sided glue tape. The antenna is made by silver deposition technology on transparent plastic.
The antenna amplifier is powered by a power supply or USB.
Placing antennas:
Antenna Type:
Frequency range:
The gain, max.:
Impedance:
Connector type:
Supply voltage:
Weight:
The cable length:
Сolor of case:
Indoor
Broadband FM/DAB Antenna
68-230 MHz
20 dBi
75 Ohm
F
5 V
no more 0.3 Kg
5 m
Transparent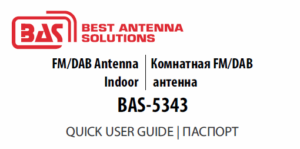 You can download the presentation in PDF format. To view PDF file You can use Adobe Acrobat Reader